Airport Transportation Discount
GO Yellow Checker Shuttle is offering discount airport transportation
from and to D/FW Airport
HILTON ANATOLE
Click on the button below to learn about several transportation options these include:
Airport Shuttle ride share web-tickets (Best Price Option "NO Fuel Surcharge Fee" ) …
$30.00 roundtrip online
or
$15.00 oneway online
This is a shared ride service which means that the driver has 25 minutes on airport property from the time the 1st passenger is placed in the vehicle.
There may be other passengers going to various locations.
Exclusive (Private non-stop) Van service for up to 10 passengers.......... $100.00 each way
This shuttle leaves as soon as you or your party boards.
D/FWAirport Black Car / SUV Service Web-tickets…………………………$59.00 each way
An online reservation qualifies you for discounts from your city of origin thru our partner company, Go Airport Shuttle.com.
Once the online reservation is made for your DFW transportation, the system will automatically make these discounts if available.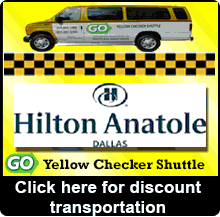 Airport Transportation Web Reservation Portal
(service provided by GO-Yellow Checker Shuttle)